New Yiddish Songs

The CD is available for $15 US, plus shipping, from Alexander Botwinik at info@botwinikmusic.com
It includes a 32-page booklet with Yiddish lyrics, transliteration and English and Hebrew translations.

The hardcover book: $45 US (plus shipping)

Special price: Book & CD: $50 US (plus shipping)

The CD is also available from CD Baby, where you can listen to samples of each track, and purchase individual songs for $0.99, or download the entire CD for $9.99.
Internationally acclaimed opera singers Lisa Willson, John Packard and Ian DeNolfo bring to life these dramatic and poignant Yiddish Art Songs, with 2 bonus songs performed by world-renowned tenor Louis Danto. All the music is by Montreal-based composer David Botwinik (born 1920, Vilna), with lyrics by various poets.

ABOUT THE SINGERS

Lisa Willson, internationally acclaimed soprano, has been praised for her vocal beauty and purity of tone.

Opera Magazine wrote of American singer John Packard that his is "a seamless voice, with character and gleaming upper register."

Ian DeNolfo, one of the most exciting artists of his generation, has been featured in many of the leading opera houses of the world, including the Metropolitan Opera and Teatro alla Scala.

Louis Danto (1929-2010) was renowned for the rare beauty and purity of his voice, its mastery and control, and for his breathtaking emotional expression.

ABOUT THE PIANISTS

Elena Berman is the director of the Nelly Berman School of Music in Haverford, PA. She started studying piano at the age of 5 with her mother Nelly. At 7, she was admitted to the Stolyarsky Professional Music School in Odessa, Ukraine.

Elizabeth Manus, based in the Philadelphia area, trained in piano accompanying at the Curtis Institute of Music and is a collaborative pianist and vocal coach.

Lisa Willson, soprano, began piano lessons at the age of 5. Besides majoring in voice, she had a minor in piano performance, and is now a professional piano accompanist.

Alexander (Sender) Botwinik teaches music and choir at Har Zion Temple in Penn Valley, PA, and is a Yiddish instructor at the University of Pennsylvania.

Abe Ellstein (1907-1963) was one of the "big four" composers of his era in New York's Yiddish Theater scene; his musical Yidl Mitn Fidl became one of the greatest hits of Yiddish cinema.
Oh, what a joy, what a pleasure! …the sounds and melodies of the Jewish soul sing out. …Botwinik's music breathes fresh life into these poems."
— Dr. Rakhmiel Peltz
Director of Judaic Studies, Professor of Sociolinguistics
Drexel University, Philadelphia

"It was a pleasure for me to learn and perform several of David Botwinik's compositions. I was always impressed with his talent to express in music and lyrics the pain and horrors of the Holocaust. It is amazing that from ashes arose such beautiful works."
— Louis Danto (z"l)
Cantor Emeritus, Beth Emeth Bais Yehuda Synagogue, Toronto

"The title of this formidable opus is a reflection of the broad spectrum of Yiddish songs composed by David Botwinik. …Botwinik not only composed the music. In many numbers he also wrote the very personal and emotional Yiddish texts. Botwinik chooses a classical harmonic structure, and is able to express the complete gamut of human emotions with his very effective piano accompaniments. The vocal lines are mostly lyrical with dramatic effects reflecting the texts, leaving the listener emotionally moved by the experience. "From Holocaust to Life" is David Botwinik's unique and valuable legacy to the Yiddish Song."
— Maestro Lou Burko (z"l)
Music Director Shaare Zion Congregation, Montreal
Conductor-Arranger radio station CKVL-FM Concert Orchestra

"…David Botwinik, a very gifted melodist and composer. Botwinik is... able to penetrate the meaning of every word of the poems that he sets. The musical settings range from simple folk-like melodies…to highly sophisticated compositions with a rich piano accompaniment."
— Dr. Eliyahu Schleifer
Professor and Director, School of Sacred Music, HUC-JIR, Jerusalem

"It's also a sweeping portrait of Jewish suffering and joy, with songs that cry out from the persecution of czarist and Nazi regimes, then celebrate life born of renewal, faith and tradition."
— Heather Solomon, Canadian Jewish News, July 15, 2010

"These Yiddish art songs are truly beautiful. David Botwinik has a gift for the art of melody. Each song lends itself beautifully to the voice and each note is inlaid with beauty and pathos."
— Lisa Willson, soprano
THE SONGS
1. Shabes-lid – Sabbath Song
(Lisa Willson, soprano; Elizabeth Manus, piano)

2. Nishto mer – No More
(Lisa Willson, soprano; Elena Berman, piano)

3. Men ruft mikh milyon – I Am Called Million
(Ian DeNolfo, tenor; Lisa Willson, piano)

4. Far undz iz dos lebn farbotn – For Us, Living Is Forbidden
(Lisa Willson, soprano; Elena Berman, piano)

5. Di yunge mame – The Young Mother
(Lisa Willson, soprano; Elena Berman, piano)

6. Khalutsim-lid – Pioneer Song
(John Packard, heldentenor; Alexander Botwinik, piano)

7. Mapilim-lid – Mapilim Song
(Lisa Willson, soprano; Ian DeNolfo, tenor; Elena Berman, piano)

8. Yidishe oygn – Jewish Eyes
(John Packard, heldentenor; Elena Berman, piano)

9. Vu bistu itster, vu? – Where Are You Now?
(Lisa Willson, soprano; Elena Berman, piano)

10. Der letster zumer – The Last Summer
(John Packard, heldentenor; Elena Berman, piano)

11. Kum, Yeshayes kholem – Come, Isaiah's Dream
(Lisa Willson, all voices and piano)

12. Kumt tsu undz – Come to Us
(John Packard, heldentenor; Alexander Botwinik, piano)

13. Lekoved simkhes-toyre – In Honor of Simkhat Torah
(John Packard, heldentenor, Lisa Willson, soprano; Elizabeth Manus, piano)

14. Rokhele – Rokhele
(Louis Danto, tenor; Abe Ellstein, piano)

15. Di litvishe shtetele – The Little Lithuanian Town
(Louis Danto, tenor; Abe Ellstein, piano)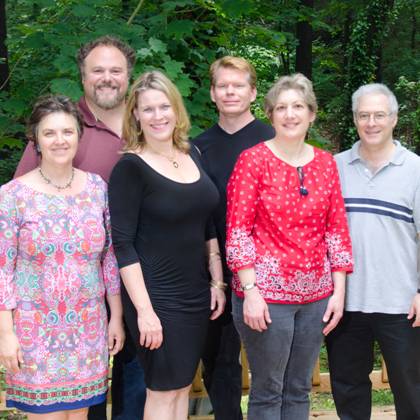 Photo by Ian DeNolfo